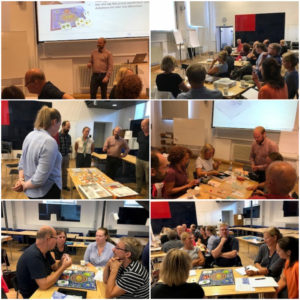 This week we launched no less than two separate teacher training efforts:
Wednesday: I and Emma Strömberg (IVL) hosted the first session of six in our new training course in pedagogical methods for integrating sustainability in education, for a cohort of university teachers at KTH in Södertälje
Thursday: the launch of a training endeavor for teachers in secondary schools, were they receive training on using our educational board games and the Snowflake Education online toolkit for teaching sustainable development. This event was hosted by Helena Lennholm (KTH, The Department of Learning in Engineering Sciences).
Thank you Emma, Helena and all participating teachers! I am looking forward to the coming sessions in the next few weeks!